Hello friend,
Happy New Year!  
Here we are again.  The beginning – or the middle really – as I see life as a series of circles rather than a straight line.  But however you see things, we've come 'round again to the time and season we see as a new beginning. 
As you may know, I have a tradition of choosing a word every January to clarify my intentions for the year ahead. I have been doing this for many years now ("Trust" for 2012, "Alive" for 2013, "Fly" for 2014, "Space" for 2015, "Thrive" in 2016, "Awakening" for 2017, "Devoted to Intuition" for 2018, "SOAR" for 2019, "Quality" for 2020, and "Receive" for 2021, and "Clarity" for 2022).  Last year I chose clarity because after two years of the uncertainty brought by the pandemic, I thought inviting in clarity would be like a breath of fresh air.  I thought I was inviting in focus and insight into next steps, a better understanding of my path forward.  And as is always the case, CLARITY came in ways I could never have expected.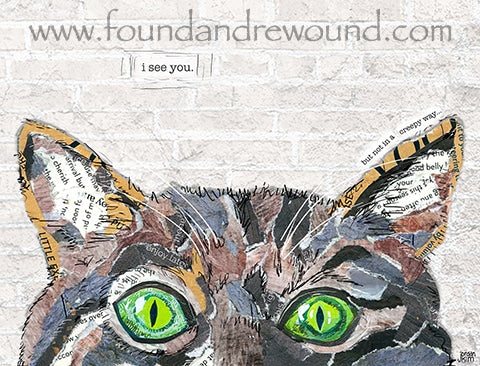 Not more than a week or so after I chose my word for the year and wrote my annual blog post on the subject, I was diagnosed with cystoid macular edema caused my retinal vasculitis in my macula.  In other words, I had cysts growing in both eyes.  The cysts made it impossible to focus on details.  The condition had been misdiagnosed for over a year (a story for another time), which meant serious and potentially permanent damage to my vision.  I spent the better part of this year taking a wide range of medications to get the cysts to go away and salvage my vision.  I now must take immunosuppressants indefinitely to prevent the cysts from returning.  And the photoreceptors in my eye have sustained permanent damage.  I can still see well enough to do my art, but not well enough to drive when it's raining or dark. 
Talk about gaining clarity by losing it. 
I have had to learn to ask for help, say "no," and be honest with myself in a whole new way.  And I am still butting up against my expectations for myself and my reality daily.  I have to feel into my truth much more.  It has been humbling and VERY eye opening.  (Sorry, I couldn't' help myself.)
As I've said before, this stuff is potent.  Be careful what you ask for. 
So, I am honestly leery about choosing a word for this year.  What could I possibly choose that could be "safe" yet invite in the growth that I need and want.  I'm pretty sure I'm not really in charge of choosing anymore.  But after some careful deliberation, my word for 2023 is…
INTEGRATE.
Last year I was gifted "The Way of Integrity" by Martha Beck and it has rocked my world.  I resonate with her guidance so much.  I read the book twice in 2022 and am starting this year by listening to it again.  Martha Beck explains that integrity is wholeness.  And to come back to integrity is to come home.  Much of what plagues us—people pleasing, staying in stale relationships, negative habits—all point to what happens when we are out of touch with what truly makes us feel whole.  So, this year, I am inviting in integrity. I am integrating the newfound clarity I have gained to align my life and choices with my true north.    
And because I recognize that I am NOT in control here, I'd like to respectfully request that the universe keep my friends, family and loved ones safe and healthy.  Although I know hitting rock bottom is one way, none of us need to have catastrophe strike for me to find integrity.  Thank you very much.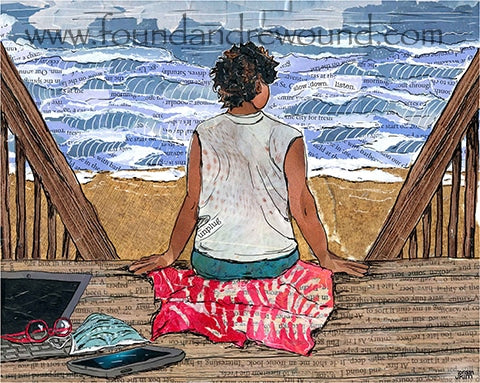 So, what does that look like for how I will serve you?  I will be paring down my offerings to integrate my skillsets and passions into my most valuable gifts.
Here are a few of the projects I am working on manifesting:
New art -designed to remind us of our integration with the natural world. Coming Soon!
Children's books!  "I am the Thirsty Desert" will be available on March 14th and I have more in the works!
Retreats! I'm so excited to be hosting a retreat for adults at the Trout Lake Abby on April 1st all about using nature and creative expression to connect to our intuition.
Summer camps for kids – just two weeks this summer!  But they will be in person and super special!
Adult and kid classes – focused on fostering creativity and connection. Let me know what you'd like to see!
Selling originals and doing a few shows in person again this year!
Expanding my reach through collaborations with like-minded people and organizations.
And of course, staying open and receptive to the opportunities that present themselves through connections with people like you!
Thank you so much for following along on my creative journey. I wish you a year full of healing, inspiration, and powerful restoration! If you hold any ceremony or tradition around the new year, please share in the comments below.
PS:  As often happens this time of year, I am writing this as we approach Martin Luther King Jr. day.  Over the past several years, I have gained some clarity the racial injustice that is rampant in our country and my privilege, upbringing, and denial.  I am committed to integrating the clarity I gain on this subject so that I can make choices and actions that start to correct this wrong.