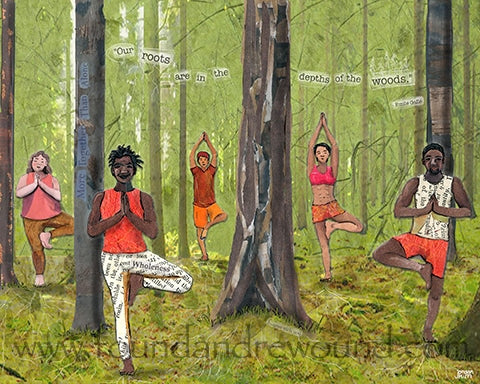 Forest Roots
This mixed media collage is part of a collection completed in 2023 meant to inspire a recognition of ourselves in the natural world.  So often we visit nature when it is convenient for us and then go back to living as if we are separate from it. As an ecologist, I know we are nature.  It is us.  There is no separation.  What we do to the natural world we do to ourselves. And what holds true for the natural world, holds true for us as well.  This piece depicts people of different races, sizes, and sexes doing the yoga "tree pose" in the forest with roots extending into the soil and intertwining with the tree roots.  The Émille Gallè quote "Our roots are in the depths of the woods" serves as a reminder that like our forest brethren, we rely on one another for support, communication, food, and protection. What we do to one, we do to all.
Shop!
Reproductions of this image are available through my
Etsy shop
.
All of my cards and prints are printed on high quality, 100% post-consumer recycled, white, matte cardstock with archival ink.
Copyright © Jordan Kim, Found & Rewound   All rights reserved.
Please don't take or use any images without permission.  Thanks.