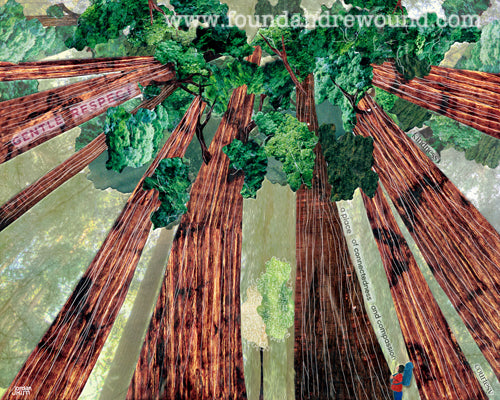 August Redwoods
Mother Nature has a way of humbling us with her strength while simultaneously grounding us with her sustaining presence.  This collage features the awe-inspiring Redwoods, a forest unlike any other.  Anyone who has stood in the presence of these giants knows the feelings of humility and respect that wash over you.  Whether standing in the Redwoods, at the ocean, or in a mountain meadow, this piece serves as a reminder of the magnificence, resiliency, and power of the natural world.  Messages incorporated into this image say "gentle respect", "kindness", "courtesy", and "a place of connectedness and compassion".
Shop!
Reproductions of this image are available through my
Etsy shop
.
All of my cards and prints are printed on high quality, 100% post-consumer recycled, white, matte cardstock with archival ink.
Copyright © Jordan Kim, Found & Rewound   All rights reserved.
Please don't take or use any images without permission.  Thanks.